We will lead the change for customer value innovation. Ha Hyun Hwoi, LG U+ CEO & Vice Chairman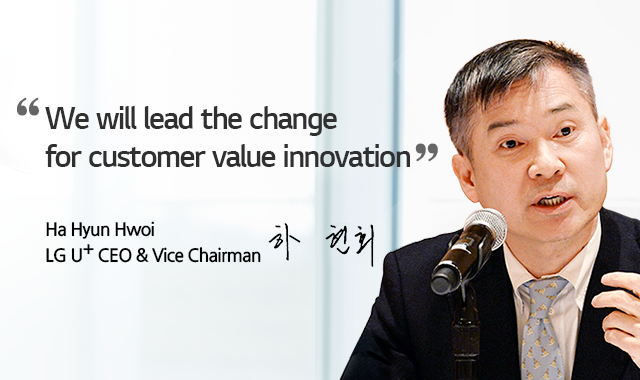 MESSAGE
We will lead the change for customer value innovation.
We thank you for your constant love expressed towards LG U+.

LG U+ has introduced new trends within the communications industry by taking a step forward with progressive thoughts and strategic moves.
Our customers were always at the heart of those achievements.
We have continued to make an effort to add value to their lives.

Facing the 5G era, LG U+ is now taking a new approach to change our customers' daily lives.
LG U+ has planned to explore an uncharted path in order to help make their experience more pleasant, enjoyable, and touching.

We hope you will continue to kindly pay attention to the changes and innovations offered by LG U+.
Everyone here at LG U+ will pour out each and every ounce of passion and dedication to live up to your lofty expectations and be worthy of your support.

Thank you.
---
CAREERS
2018

LG Corp. , Vice Chairman & Representative Director

2014

LG Corp. , President

2013

LG Electronics, President & CEO, Home Entertainment Company

2012

LG Corp. , EVP, Leader of Synergy Team

2011

LG Display, EVP, Head of TV Business Division
2010

LG Display, EVP, Head of IT Business Division

2007

LG Display, EVP, Head of Mobile Business Division

2003

LG Display, VP, Corporate Strategy

1998

LG, General manager, Financial Restructuring Team

1992

LG Chairman's Office, Manager, V-Promotion HQ
2018

LG Corp. , Vice Chairman & Representative Director

2014

LG Corp. , President

2013

LG Electronics, President & CEO, Home Entertainment Company

2012

LG Corp. , EVP, Leader of Synergy Team

2011

LG Display, EVP, Head of TV Business Division

2010

LG Display, EVP, Head of IT Business Division

2007

LG Display, EVP, Head of Mobile Business Division

2003

LG Display, VP, Corporate Strategy

1998

LG, General manager, Financial Restructuring Team

1992

LG Chairman's Office, Manager, V-Promotion HQ
---